Not really a new release, but a re-release of my kit from my guest spot at Scrapbook Graphics. I've brought Creator and the coordinating Creator Alpha over to OScraps where it joins the rest of the family.
- Click Here to see Inspiration from The Flock! -
They're both 20% off today through May 6th, and if you purchase them both you receive the alpha for $1. Which means you wind up getting both the kit and the alpha for slightly less than the regularly priced kit. Once you add both items to your cart you'll receive the discount.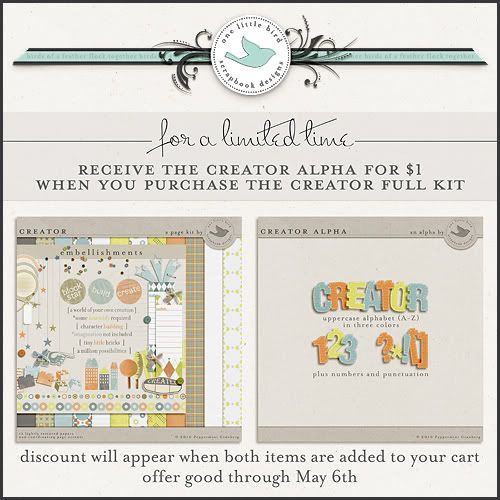 A big "thank you" to all of you who hung out with me on Twitter this past weekend – it seems like many of you were able to grab some great deals which makes me really happy! I had a few people tell me that they managed to get everything on their wishlist so it was all worthwhile. I'm so pumped to connect with new (to me!) customers from OScraps, and equally pumped to see so many of my current customers are already active in the community. NSD really let me get to know many of you better and that was the icing on the cake.
As for my custom word art giveaway, I used the random number generator to choose two people and they are:
(graphic made using items from Boardwalk)
Congratulations Sarah and Rebecca! I'll be emailing you soon to get your lists of custom words, so start brainstorming!
Hope you all had a great weekend!